Tiroler Stube
How it all started
When and where did the "Tiroler Stube" originate? These wood-panelled rooms date from the 12th century. At that time they were mainly found in castles and palaces in the southern part of the Tyrol. Today, however, we mainly associate them with inns and farmhouses, where they were introduced in the 18th century. So what exactly is a "Tiroler Stube"? First and foremost, it has to have a lot of wood: on the walls, the ceiling and the floor. I suppose you could describe it as a small wooden box. Often the Stube was the only room in the house with heating. It had a traditional tiled stove – often combined with a bench for sitting or lying – which would burn wood. The benches in the room were usually fixed directly to the wall and the chairs were decorated with elaborate carvings. Upholstery and curtains made of elegant loden or linen fabrics provided a little colour and charm. Storage space was built directly into the wall and a "Hergottswinkel" was of course also a must for the devout Tyroleans, hence the crucifix in the corner. The "Tiroler Stube" has always been a place where family and friends gathered. Today out guests feel at home in our 15 different wood-panelled dining rooms, where traditional materials have been interpreted in a modern way. The Hennewinkel Stube, Herzstück Stube and Kräuter Stube are all good examples of this.
Lieblingsplatz
Natural stone, local wood, fine fabrics. An open fireplace, cosy hideaways and a domed ceiling create a special atmosphere here. A good place to settle down with a book or newspaper while at the same time keeping an eye on what's going on.
Herzerl Stube
This room is, as the name suggest, all about hearts! See how many you can count throughout the decoration and furnishings. Keep an eye out for the lampshades made from giant cowbells.
Jagd Stube
Wood-panelled walls and ceilings with paintings depicting hunting in all its many forms, hideaways for couples and a large table where regulars get together to share drinks and stories. A must for all hunting fans!
Herzstück Stube
The Herzstückstube is dominated by steel, wood and panelling on the walls. A great place to watch the sun go down over the lake outside.
Hennewinkl Stube
The wood-panelling in this room used an incredible two tonnes of solid oak. Further highlights include copper elements, huge windows and plenty of cosy corners for couples to hide away in.
Theresien Stube
We are proud of our roots - and this room shows it. Located next to the bar and with a natural wooden floor, wood-panelled walls and a wooden ceiling. Keep an eye out for the crucifix in the corner and other works of carving throughout the room.
Bergglück Stube
The name of this room literally means "Mountain Happiness". It has lots of cosy corners, wood features, stone elements and traditional handmade lampshades. A great place to marvel at the beauty of the mountains.
Gräner Stube
Traditional, cosy and with eye-catching lampshades made from traditional Tyrolean hats. A good place from which to watch the world go by. Especially cosy on cold winter days thanks to the wood-fired heater with a cosy bench to lie back on.
Engel's Stube
Fine views of the main square in the centre of Grän, open fire, traditional wooden panelling made from local fir trees, fine felt decorations. A little piece of Heaven right here on Earth!
Rosen Stube
Wooden flooring and rose-decorated linen curtains. Don't forget to take a closer look at the ceiling, which is a traditional Tyrolean design with lots of images and motifs carved into the wood.
Zirben Stube
This room is, as the name suggests, all about one type of wood: pine. You will find it everywhere, combined with warm linen fabrics, a traditional wooden floor and an exclusive niche with a table for four.
Gourmet Stube
Decorated in crimson, this room is proof that good things really do come in small packages. Vaulted ceiling, grey felt decoration, wood-panelled walls and plenty of sunshine at midday.
Andreas Hofer Stube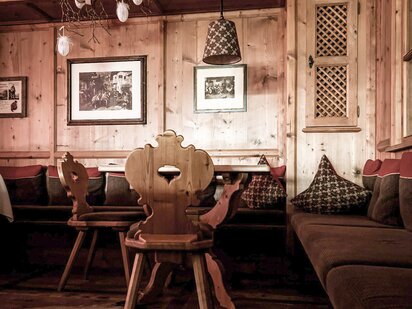 Andreas Hofer: Local hero who defended the Austrian Tyrol against Napoleonic troops in the 18th century. A traditional wood-panelled room with modern elements featuring a vaulted ceiling and open fireplace.
Poldi Stüberl
The meeting point for activities offered at the hotel. At other times simply a good place to meet up for a drink and a chat.
Whetted your appetite?
Click here for more!